Suede in the rain - who would've thought! Our iconic #500 upgraded yet again to this cool and casual #2209 Chelsea boot in steel grey, featuring soft, waxed, water-resistant suede.
HOW DO THEY FIT?

Boots run true to size. Order up a half size for a wider fit.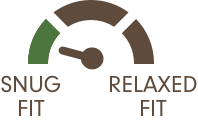 A firmer fit across the top of the boot and the toe area.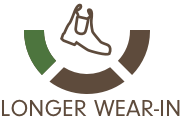 Over time, the thicker leather will soften and the boot will mold nicely to your foot.
XRD® Technology in the heel of the #2209 provides superior shock absorption, while the premium waxed suede leather adds both resilience and style.
- Premium water-resistant waxed suede leather
- Iconic elastic side
- Contoured EVA footbed for maximum comfort
- Lightweight and heat resistant TPU outsole
- Polyurethane midsole
- XRD® Technology in the heel for supreme shock absorption
- Steel shank for added stability
Caring for your suede boots is easy - all you need to do is simply follow the below steps:

- Use a suede brush, to scrub off any surface stains or dirt.

- If you have any scuff marks, you can remove them with a gum eraser. Simply rub the scuff with the eraser and wipe away the rubber debris.

- Then dampen a suede brush with a little water and pour a small amount of suede and leather cleaner on it. Then clean the shoe, focusing your attention on any particularly stained spots.

- Dab the shoes with a clean towel to remove any excess moisture and leave to air dry.

- Once dry, apply a water and stain repellent spray on the shoe to help prolong their life. Some suedes are best treated prior to wear if they have not been treated.

It's a good idea to waterproof boots regularly to protect the leather from staining. If the leather is wet, let it dry naturally prior to cleaning or using any cleaning substances.